(Washington, DC, and Albany, NY, Thursday, April 8, 2021) – A Different Outcome (ADO), a new 501(c)3 charitable organization focused on providing mentoring and training to at-risk Black boys and young adults, has completed its first-ever outreach, distributing new ASUS laptops to seven middle school students in Albany, New York, and Montgomery County, Maryland.
Founded last year during the global pandemic, A Different Outcome (https://differentoutcome.org), seeks to "motivate and inspire young men by providing mentoring and training," says co-founder and President Kevin Green, Jr. "Our goal is to inspire and support some of the most at-risk, marginalized, and misunderstood individuals in American society."
Students at Hackett Middle School and Green Tech Middle School in Albany, NY, were among the initial recipients of laptops from ADO, as were students at Harmony Hills Elementary School in Silver Spring, MD. One home-schooled Maryland student also received a new laptop.
Participants in the ADO program are expected to maintain regular school attendance and demonstrate improved awareness and knowledge in key focus areas including mental and emotional wellness, technology, and financial literacy. Each student will need to show that his actions reflect ADO's core values of self-discipline, reliability, honesty, and hard work.
"Many young people do not have access to formal or informal mentoring which is a proven element of long-term success," says charity co-founder and Executive Consultant to the Board Kevin Green, Sr. "ADO is working with seven young men this year as part of our pilot program. Our goal is to expand our impact to 20 students next year and to develop a similar program for girls and young women."
ADO plans to match its first group of participants with mentors that will help them achieve their goals. The organization maintains that access to technology and the training necessary to use it effectively are key factors in bridging the digital divide and closing the homework gap.
"We began planning A Different Outcome a few years ago," says Green, Jr. "The pandemic made it clear that we needed to accelerate our schedule and get out into the field as quickly as possible. ADO is designed to thrive in a virtual environment but built to transition easily as things normalize. The organization has assembled an advisory board comprising the key expertise and leadership needed to make a difference in the lives of at-risk youth in our communities."
Details on A Different Outcome, its mission, programs, and leadership, can be found on the organization's website.
For additional information or to schedule an interview or explore joining forces with ADO, please contact Kevin Green, Jr., at kgreenjr@differentoutcome.org, 518-407-3104.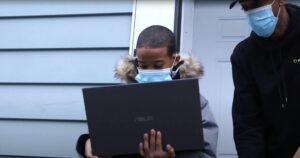 Press Release
A Different Outcome completes first distribution of laptops to at-risk youth in New York and Maryland (Washington, DC, and Albany, NY, Thursday, April 8, 2021)
Can you or someone you know benefit from our cause?